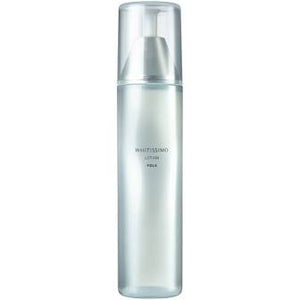 Moisturizing and whitening care in abundance. A long-selling medicated whitening lotion.

Contains Melting Moist Oil A. The special feature is its mellow feel and penetration. With its gentle and smooth penetration and moderate thickness, it blends into the skin as if it were melting into the skin and provides moisture to every part of the stratum corneum. Skin = Stratum corneum

Whitissimo's "Mitasu" series, deep moist whitening for adults. For adult dull skin caused by dryness and other disturbances in the stratum corneum. A basic line of whitening and moisturizing products. Focuses on the stratum corneum, which holds the key to skin clarity. While providing plenty of moisture, this product aims to make your skin look clear and translucent. The "transparent aqua pool formula" seems to cover the entire stratum corneum with a pool of moisture, providing a moisturizing effect and preparing the stratum corneum for easy absorption of cosmetics. Contains POLA's original complex moisturizing ingredient, Triple Bright Capsule. Main ingredients Clear Moisture (moisturizing ingredient), Wild Thyme Extract (moisturizing ingredient), Rose Hip Extract (moisturizing ingredient), and other ingredients are blended into the Triple Bright Capsule.