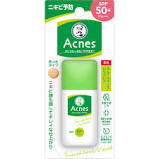 Acnes series to fight against acne bacteria

Prevents acne. Oily skin. Moisturizes the skin. Skin irritation Skin irritation Tightens skin Cleanses the skin Skin toning

Contains antibacterial and anti-inflammatory ingredients: Isopropyl Methylphenol and Stearyl Glycyrrhetinate to help prevent acne. Non-comedogenic and photo-allergy tested* *Acne free for all

This product is designed to help prevent acne and protect against UV rays. SPF50+, PA++ protects your skin from strong UV rays. Contains a moisturizing vitamin C derivative. Can also be used as a base for makeup. Fragrance free. Quasi-drug product.