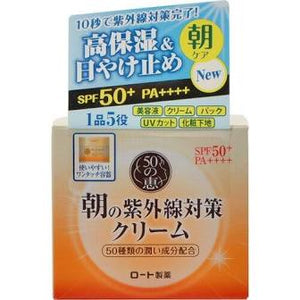 50 Blessings Morning UV Protection Cream contains 50 moisturizing ingredients such as three types of collagen*1 and royal jelly, as well as baby collagen*2, which decreases with age, and is recommended for morning care. In addition, this cream is an ideal morning care product. In addition, this product is a "serum + cream + pack + UV protection + makeup base" all in one! You can take care of your skin and protect it from UV rays at the same time. It can be removed with soap, but if it is difficult to remove, please use a makeup remover.
Can be used on face and neck.
1: Moisturizing ingredients (hydrolyzed collagen, water-soluble collagen, succinoyl atelocollagen)
2: Type III collagen contained in succinoyl atelocollagen (moisturizing ingredient)

Directions for use

Apply an appropriate amount to the skin in the morning after toning.
Before using, turn the cap and remove the inner lid.

It is recommended to use this product with the 50 Blessings series.