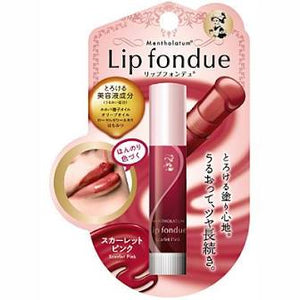 "I want a lipstick with lots of moisture.
"I want a lipstick with plenty of moisture," "I want a soft touch that feels good to apply.
Lip Fondue® was created in response to these customer requests.
The serum oil adheres to the lips without any gaps, wrapping the entire lip.
The softly melting veil of oil locks in moisture.
A soft, melting veil of oil seals in the moisture and keeps your lips moisturized.

Mentholatum Lip Fondue Aurora 3D Pearl 4.2g is a lip balm that wraps lips like a soft, melted fondue, with 3D pearls that catch the light and sparkle like an aurora. The 3D pearls catch the light and shimmer like an aurora. It makes your lips look more beautiful and three-dimensional. It can be applied on the lips without any makeup or on top of the rouge.

How to use

Apply 2-3 times on the lips in a light layer.