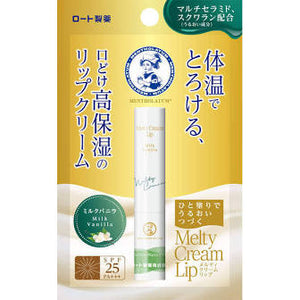 Mentholatum Melty Cream Lip Milk Vanilla 2.4g is a highly moisturizing lip balm that melts and blends with the body temperature of your lips.
It uses "Moist Bank Technology" that reacts with moisture in the air and on the lips to hold in moisture and turn into cream. The result is an unprecedented soft and smooth application that feels as if the cream is melting away. Contains multi-ceramides (ceramide 3, ceramide 2, and ceramide 6II). One application melts into your lips with body heat and protects them with a feeling of moisture.
UV protection (SPF25/PA+++)
Fragrance: Milk Vanilla
It can be used before bedtime, in the office when dryness is a concern, on cold days, as a base for lipstick, or on days when you cannot easily reapply.
It's like a cream that melts into your skin, giving you the softest, smoothest lips you've ever had.

Moist Bank Technology
Moist Bank Technology is a technology that reacts with water on the lips and in the air to hold in moisture and turn into cream.

New tactile sensation! Realizes a melt-in-your-mouth sensation at body temperature.
Soft and smooth application, as if the cream were melting. With just one application, it melts with your body heat and blends into your lips, filling them with rich moisture.

Contains multi-ceramides (moisturizing ingredients), SPF25, PA+++.

How to use

Apply 2 to 3 times lightly to lips.