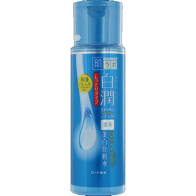 In response to the needs of all those who long for smooth and clear skin, we have increased the amount of moisturizing nano-hyaluronic acid by a factor of 1.5, as well as the skin conditioning moisturizing ingredients of Japanese wheatgrass and vitamin E.

A new formula that suppresses melanin production while moisturizing, prevents the formation of spots and freckles and provides thorough skin whitening care.

It provides plenty of fresh moisture deep into the skin (stratum corneum), which tends to become dry due to UV rays, to prevent spots and freckles, leading to clear and translucent skin.

UV rays, which cause blemishes, lead to dryness of the skin. When the skin is dry, the texture is disrupted and becomes dull.

This moist medicated whitening lotion contains natural high-purity arbutin (whitening active ingredient) and nano-hyaluronic acid (moisturizing ingredient), both of which are carefully selected to whiten and moisturize the skin. A moist type of medicated whitening lotion. It suppresses melanin production and prevents spots and freckles. Contains vitamin C derivative, vitamin E, and astragalus membranaceus extract as moisturizing ingredients. Provides ample moisture for brighter, more radiant skin.

Weak acidity. Fragrance-free, colorant-free, mineral oil-free, and alcohol-free.