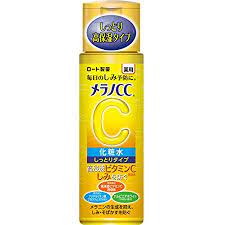 Contains a combination of active vitamin C (ascorbic acid) and vitamin E derivative (tocopherol acetate) to promote blood circulation.
The two types of vitamins work directly on the skin.
The whitening active ingredients reach deep into the stratum corneum to suppress melanin production and prevent freckles.
It also prevents acne and moisturizes skin with acne scars.
It is a non-sticky liquid type.
Easy-to-use drop-in tube.

(Quasi-drugs)

Directions for use

After cleansing and toning your skin, dispense an appropriate amount of the product into the palm of your hand and apply to the affected area or the entire skin.
(1) Open the cap and apply directly from the tube to the palm of your hand.
Apply to the area of concern or the entire face.
For example, if you use 4 to 5 drops once a day, you can use it for about 5 to 6 months.

Ingredients

Ascorbic acid (active vitamin C), tocopherol acetate (vitamin E derivative), dipotassium glycyrrhizinate, isopropyl methylphenol < Other Ingredients> Vitamin C tetraisopalmitate, ethoxydiglycol, Alpinia cuttlefish seed extract ( Alpinia White), BG, Edetate, Viscosity regulator, Fragrance.