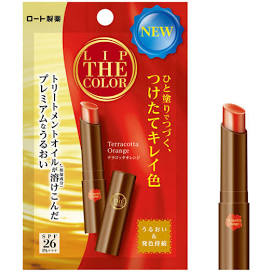 A tinted lip that fills you with premium moisture and keeps your color beautiful.
More casual than lipstick, but more colorful than colored lips.
Lip the Color (Terracotta Orange) is an oil-tinted lipstick that reacts to the moisture in your lips to provide long-lasting color even after a long time. UV-protection (SPF26, PA+++). 6 treatment oils* (moisturizing ingredients) and a tinting effect fill lips with premium moisture while providing beautiful, transparent color that always looks freshly applied. Fragrance-free. The natural color is perfect for natural makeup.
Squalane oil (squalane), jojoba oil (jojoba seed oil), argan oil (organic Spinosa kernel oil), avocado oil (hydrogenated avocado oil), shea butter (shea fat), olive oil (olive fruit oil)
Directions for use
Apply to lips in two to three light layers.