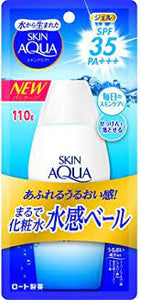 Watery feel.
Contains moisturizing ingredients! A commitment to gentleness.
Fragrance-free, colorant-free, mineral oil-free, and paraben-free.
A fresh, gel-type sunscreen that can be used liberally every day.
Can be removed with soap.
Recommended as a base for makeup for face and body.
110g for full use.
SPF35/PA+++.

How to use

Apply evenly to skin.
Apply evenly to the skin. Apply evenly to the skin. (To prevent uneven application, apply in layers.)
Reapply frequently to maintain the effect. To maintain the effect, reapply frequently. Especially if you frequently wipe off sweat (at the beach, in the mountains, during sports, etc.), reapply frequently after sweating or wiping off with a towel.
When removing, rinse with a cleanser.