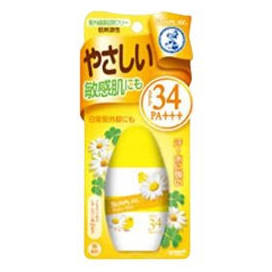 Mentholatum Sunplay Baby Milk 30g is a UV absorber-free, hypoallergenic sunscreen emulsion (for face and body) that can be used on sensitive skin. Contains vitamin C derivative, provitamin B5, and vitamin E derivative (moisturizing ingredient). Contains Dipotassium Glycyrrhizinate as an ingredient to prevent skin irritation. Waterproof type, resistant to sweat and water. Stinging test done* (Not all people will feel no irritation.) Fragrance and color-free. Fragrance-free, colorant-free, SPF34, PA+++.
This is a test to check for irritation (tingling sensation) on the skin when applied.

How to use

Shake well before use.
Always dispense a small amount onto palm of hand and spread evenly over skin.
For best results, reapply frequently. To maintain its effectiveness, reapply frequently, especially if you frequently wipe off sweat (at the beach, in the mountains, during sports, etc.).
When removing, rinse carefully with a cleanser or cleansing agent.