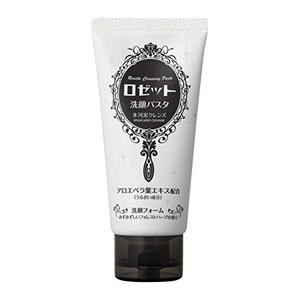 Cleanses and smoothes away a sticky residue

This facial cleansing foam contains "glacial mud" from Canada and "kucha" from Okinawa Prefecture. The word "pasta" means "powder kneaded into a paste. The glutinous, absorbent foam containing fine clay powder cleanses away unwanted sebum. Leaves skin feeling fresh and smooth. Fresh forest herb scent.

W clay removes stickiness and shine!
Contains a well-balanced blend of two natural clays (cleansing ingredients): glacial mud and kudzu, both of which are highly absorbent. It removes excess sebum that causes stickiness and shine.

Moisturizing ingredients for smooth skin
Aloe vera leaf extract (moisturizing ingredient) moisturizes the skin, while proteoglycan (moisturizing ingredient) maintains the skin's moisture balance. Leads to fresh and smooth skin.

Colorless and mineral oil-free.