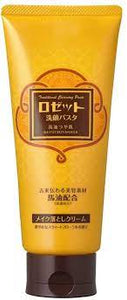 Moist and Rich Makeup Remover Cream with Horse Oil
This is a makeup remover cream of the anti-aging "Kokorobi Bijin Series" that uses the traditional method of Rosette Facial Cleansing Pasta to knead peach-colored clay powder (a cleansing ingredient) into the skin. The pasta formula removes even hard-to-remove makeup, while the horse oil (protective ingredient) leaves the skin moisturized after washing. It also has a protective effect of horse oil, which leaves your skin moisturized and supple.

Even point makeup can be removed easily.
This cream-type product is gentle on the skin, yet removes makeup as easily as oil. The smooth, thick cream melts into an oil-like consistency that easily removes even waterproof mascara. It can be rinsed off or wiped off.

Moist and soft skin with a natural veil of horse oil
Contains horse oil, which is said to be close to human sebum and blends well with other oils. It is said to be very close to human sebum and blends well with it. It protects moisture and makes skin elastic and glowing.

Pasta formula kneaded with peach-colored clay
Rosette Facial Cleansing Pasta uses a unique process to knead richly moisturizing peach-colored clay powder from Hiroshima Prefecture into a paste. The smooth cream gently removes unwanted dirt from deep within the skin's texture.

Colorant-free, mineral oil-free, alcohol-free.
Gorgeous sweet floral scent.

How to use

Apply a small amount (about the size of a cherry) to dry hands and gently massage into skin to blend with makeup. For a mascara that is difficult to remove, blend for a few seconds without rubbing.
You can also use it as a wipe-off. It can also be used as a wipe.
Remove contact lenses before use.
After use, close the cap tightly.