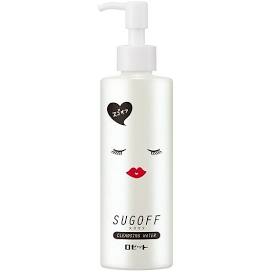 Wipe and refresh with 3-in-1! Cleansing to remove makeup and dead skin cells!
The safe cleansing ingredients used in skincare products keep your skin moisturized while lifting away makeup and dead skin cells. No need to rinse off, so you can use it as a quick makeup remover on a tiring day or as a morning face wash.
Contains natural plant-derived keratin clearing ingredient (fermented AHA) (cleansing ingredient) for clear skin. Contains "Lactobacillus acidophilus/St. japonicus juice ferment," which has a keratolytic effect. It removes make-up and dead skin cells, leaving your skin clear and dewy.
The oil-free formula can be used by those who use eyelash extensions.

How to use

Apply a generous amount to a cotton pad (about 3-4 pumps per pad) and gently blend with makeup. When the cotton becomes soiled, replace it with a new one and repeat the process until no makeup is left. When removing eye makeup, let it blend for a while and then gently wipe off.