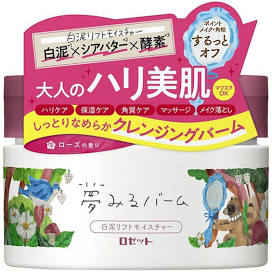 With a melt-in-your-mouth feel, it's blissful care time every day.
Five functions in one product! Cleansing and luxurious care every day. For those who want to take their time to massage and care for their skin, and for those who are concerned about dead skin cells. This item is easy to use in a variety of situations.
Gently and firmly removes makeup with clay, oil, and enzymes.
Meltingly smooth "cushion balm formula" reduces friction.
When the solid balm touches the skin, it melts into a smooth texture. A new cleansing sensation that easily removes even heavy makeup. "The cushion balm formula reduces friction while the emollient effect leaves your skin moisturized and refreshed.
Contains ceramide to moisturize and cleanse
Contains three types of ceramides (ceramide NG, ceramide NP, and ceramide AP) to protect skin moisture. Every time you cleanse, your skin will be moisturized.
6 free formulas that are gentle to delicate skin
Paraben-free, ethanol-free, sulfate-free, phenoxyethanol-free, synthetic polymer-free, and synthetic colorant-free. Patch tested and gentle enough for delicate skin.




How to use

Before use, remove the cap and the inner lid. When hands are dry, dispense an appropriate amount (one heaping spoonful) onto hands and spread over face, blend with makeup, and rinse thoroughly with water or lukewarm water. After cleansing, it is recommended to use Rosette Facial Cleanser.