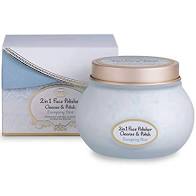 The popular face polisher has been upgraded to a new version. This face polisher combines the polish effect of Jojoba scrub and natural cellulose with the skincare effect of Dead Sea minerals and the moisturizing effect of Jericho Rose to leave your skin smooth and moisturized like a newborn. Refreshing: Recommended in the morning Removes dirt and grime that causes perspiration and stickiness while you sleep, and balances moisture and oil content. The scrub removes dead skin cells and makes makeup go on smoothly. The refreshing mint scent will wake up your skin in the morning. Ingredients] Jojoba Beads* (cleansing aid) Cellulose (cleansing aid) Jericho Rose** (moisturizing) Dead Sea Salt*** (skin conditioning)

How to use

Take a teaspoon of the product and spread an appropriate amount on wet skin, massage gently, and rinse off. Massage for about one minute.
Avoid the eye area.


Can be used daily. (Up to once a day).