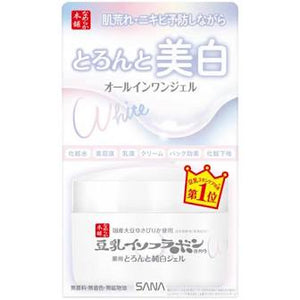 An all-in-one gel that whitens while preventing skin irritation and acne. Lotion, essence, milky lotion, cream, pack effect, and makeup base, 6 functions in 1! Contains high-purity arbutin.

If you have any questions, please feel free to contact us. If you have scars, rashes, or other skin problems, do not use this product. Do not use if you have wounds, rashes, or other skin problems. If you continue to use cosmetics, the condition may worsen. Do not store in extremely high or low temperatures or in direct sunlight. The color and fragrance of the product may change due to the characteristics of the ingredients, but there is no problem with the quality.

How to use

After cleansing your face, dispense an appropriate amount onto your hands and apply to your face. May be used morning and evening.