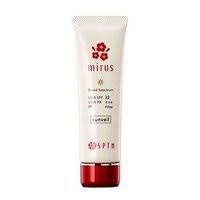 It is a milk-type sunscreen that protects the skin from UV rays in a wide range of wavelengths and is also compatible with near-infrared rays.
It can be used on both the face and body with its gentle, non-sticky and silky feel.

Indications and effects

Contains SEPTEM's original multifunctional plate-like powder, Belle Fleur Powder s. It gently adheres to the skin and protects the skin from sunlight. What is "Belle Fleur Powder"?
Broad-spectrum function to protect the skin from UV-A and UV-B rays is added.

What are the conditions for the Broad Spectrum function, which is the global standard for the concept of light protection?
(1) The ratio of the UVAPF value, which indicates the ability to protect against UV-A, divided by the SPF value must be 1/3 or more.
(2) The critical wavelength of the product's UV protection effect (the wavelength at which 90% of the area of the UV absorption spectrum is covered) must be 370 nm or more.

IR filter function" added for near-infrared rays
IR filter = Near-infrared ray blocking and scattering agent

Contains skin conditioning ingredients (moisturizing ingredients) such as aloe ferox leaf extract and tennyca fruit extract.

Directions for use

Dispense an appropriate amount (about 2 pearls) onto your hands and apply to cheeks, forehead, nose, and chin, spreading evenly over the entire face. If you need extra protection, apply another layer of the same amount. When using a base cream, wait a little while (about 2-3 minutes) after blending Sunveil well. When using on the body, dispense an appropriate amount of product onto your hands and apply evenly using the entire palm of your hand (approximately the equivalent of one cherry on each arm). For children (6 to 12 years old), apply half the amount of the adult product in small amounts. For children (6-12 years old), apply a small amount at a time, using half the amount for adults. For infants (under 6 years old), use a hat or clothing to protect against UV rays. Use only appropriate amount when using. When washing face, use soap. Body can be removed with body shampoo.

Specifications ・ Standard

<Sunscreen Emulsion> 60mL

SPF32 PA+++ All-skin / Allergy tested (Not all people are allergy free.)