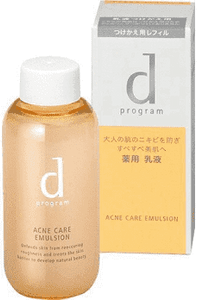 An emulsion that smoothes the skin and provides long-lasting moisture. It prevents acne and skin irritation and moisturizes skin that is prone to acne scars. The smooth airy milk formula blends easily into the skin.

Directions for use

Always use with d program Acne Care Emulsion R dispenser.

Ingredients

Polyoxyethylene (17) polypropylene (4) dimethyl ether, acrylic acid/methacrylic acid alkyl copolymer, potassium hydroxide, N-lauroyl-L-glutamic acid di(phytosterol-2-octyl dodecyl) -octyl dodecyl), sodium metaphosphate, xanthan gum, cross-linked N,N-dimethyl acrylamide-2-acrylamido-2 -Sodium methylpropanesulfonate copolymer, Sodium pyrosulfite, Polyoxyethylene (14) polypropylene (7) dimethyl ether, Odorice extract, Pyrus pyrifolia extract, Phenoxyethanol * indicates active ingredient; no indication indicates other ingredients.