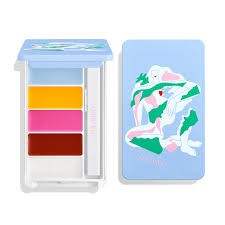 A lip palette with five different shades and textures
Inspired by the sea, this lip palette offers five different shades and textures.
Watery, transparent color. Light and easy to use. Contains moisturizing shea butter.

Type
Palette type

Feel
Light and fluffy


Directions for use
A Lip Base: Apply to lips.
 A lip base that corrects unevenness and dullness of the lips and provides a sense of moisture. (Can also be used as a base for lipstick.)
B Lip Color Balm
 A lip balm with color that gives a sense of transparency and moisture.
C Lip Tint.
 A lip tint that gives a slight tint of color and lasts for a long time.
D Lip Color
 A lipstick-type lip color that provides pure color.
E Lip Pearls.
 E Lip Pearl: A lip pearl that can be layered to change the nuance of shine.

Use the included lip brush or your fingers to apply a small amount to your lips.