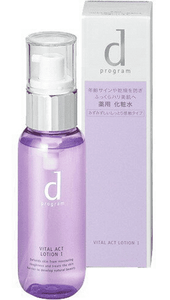 For skin that is prone to losing its firmness due to continued dryness. This lotion helps to regulate the skin's barrier function, leading to youthful, firm, and clear skin.

Ingredients ・ Raw materials

Tranexamic acid*, Dipotassium glycyrrhizinate*, Hawthorn extract, Ginkgo extract, Rosa japonica extract, Ononis extract, Erythritol, Concentrated glycerin, Purified water, Dipropylene glycol, 1,3-Butylene glycol, Polyethylene glycol 1,500, Polyoxyethylene (14) Polyoxypropylene (7) Dimethyl Ether, Polyoxyethylene (17) Polyoxypropylene (4) Dimethyl Ether, Polyoxyethylene Hydrogenated Castor Oil, Isostearic Acid, Alpha Olefin Oligomer, Polyglyceryl diisostearate, Sodium citrate, Sodium metaphosphate, Citric acid, Hydroxyethylcellulose, Sodium pyrosulfite, Thyme extract (1), Phenoxyethanol * indicates active ingredient; no indication indicates other ingredients.