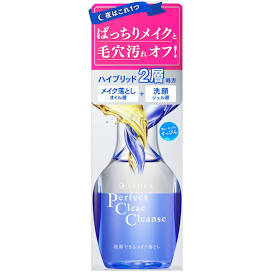 For both heavy makeup and dirty pores. A makeup remover that can wash your face.

Use only this at night. Hybrid 2-layer formula with makeup remover oil and facial cleansing gel.
The makeup remover oil layer removes heavy makeup such as waterproof mascara, while the facial cleansing gel layer absorbs dirt and grime from pores to clean off the day's dirt and grime.
No need to wash your face twice. Leaves you with a tone-bright, completely clean complexion.
Gently fragranced with a fresh floral scent.

How to use

Shake the container up and down at least 5 times to form a gel before use. The space at the top of the container is to make it easier to mix the contents.
Apply a small amount to the palm of the hand and blend well with makeup, then rinse thoroughly with water or lukewarm water.
If your hands or face are wet, dry them lightly before use.