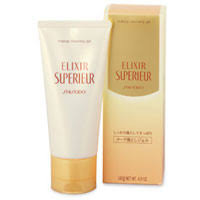 Gel-type makeup remover that absorbs and removes makeup

The smooth gel absorbs and removes make-up adhering to the surface of the skin and deep within the pores. It protects moisture while loosening the skin's surface (stratum corneum). Leaves skin feeling fresh and refreshed after washing. It has a pleasant aqua floral scent.
Can be used with wet hands.

Directions for use

Dispense about the size of a 10-yen coin onto the palm of your hand and apply to five areas of your face (cheeks, forehead, nose, and chin), then spread over your face using all of your fingers.

Starting with the large areas such as the cheeks and forehead, carefully blend the foundation and dirt all over the face while drawing a spiral pattern. Use your fingertips to carefully blend in small areas, especially the sides of the nose.
Repeat several times until well blended.

Rinse thoroughly with water or lukewarm water.

Cautions for use

Use with caution to avoid scars, rashes, dampness, discoloration (white spots, etc.), and dark spots on the skin. If it does not suit your skin, discontinue use and consult a dermatologist.
Avoid contact with eyes. If it gets into your eyes, rinse them immediately with water or lukewarm water.
If it gets on your clothes, wash them immediately with detergent. When washing, avoid using chlorine bleach as it may cause pink discoloration.