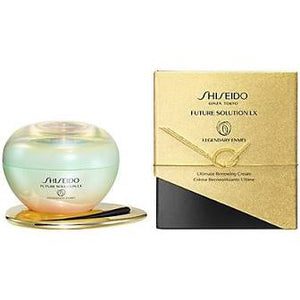 A dense cream that leads to a brighter, firmer, and more dignified appearance
Contains legendary plants that have been handed down for more than 1,000 years and rare silks nurtured by the rich nature. Advanced technology is combined to create the Legendary ENMEI Formula.
The rich and luxurious cream melts into the skin and is absorbed into the face line.
The result is a radiant, luminous, firm and dignified complexion.

Ingredients

After applying moisturizer or serum in the morning and evening, use the spatula to dispense the equivalent of two pearls onto your fingertips and apply to your face.


<For effective use (Renewing Beauty Method)

After toning your skin with lotion, etc., take the amount equivalent to two pearls and lightly blend it over your face. 2.


2. wrap your hands around the cream to warm it up, and breathe deeply while smelling the fragrance. 3.
Exhale deeply, look down, place both thumbs under your chin, and inhale as you run your thumbs along the bottom of your facial bones to your ears. Repeat twice. 4.


Place the index fingers of both hands on your smile lines and lift your cheeks up to the front of your ears. Repeat two times. 5.
Gently pull up from the base of the nose, under the eyes, to the temples. Repeat two times. 6.


Place your fingertips under your eyebrows, pull up your eyebrows, and rinse down your forehead to your hairline. 7.


Finally, smooth the cream down the sides of the neck, over the shoulders, under the collarbone and into the décolleté (one side at a time).