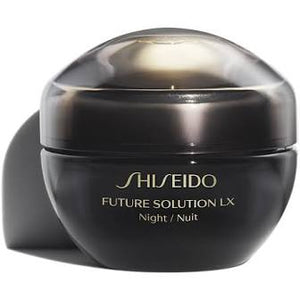 For an important night to weave the beauty of your skin. A cream that slowly leads to graceful skin

Helps to maintain a healthy skin environment and bring out the beauty of your skin. Contains a high concentration of Shiseido's proprietary ingredient, Skin Genecell ENMEI, for beautiful skin*. This care focuses on the nighttime functions of the skin to regulate the skin's environment and fill the skin with vibrant beauty. It provides elasticity, reduces the appearance of fine lines and wrinkles caused by dryness**, and leaves skin glowing and finely textured.

*Contains the highest concentration of ingredients in the Future Solution LX line to improve texture, smooth skin, and prevent skin irritation (Astragalus membranaceous extract, piperidine propionate, 2-O-ethyl-L-ascorbic acid).