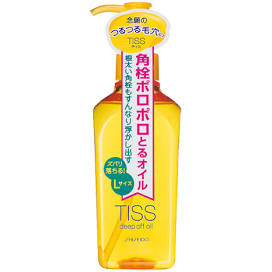 Clears even the keratin plugs in your pores. Oil-type make-up remover.

Clear your pores with your daily make-up remover. By massaging in the oil, you can feel the oil on your fingertips lift out stubborn keratin plugs and remove them completely. Removes even hard-to-remove makeup and rinses off without leaving a sticky residue.
Rinse off type. Fragrance-free.

How to use

Use without wetting hands or face.
Apply 4 pumps to the palm of the hand and smooth over face.
Gently massage with fingertips in a spiral motion, focusing on areas of concern such as blackheads and rough pores.
Massage once a day for about 2 minutes and avoid rubbing the skin too much.
Do not rub the skin too much. Rinse thoroughly with water or lukewarm water afterward.

Other effective ways to use
Use when washing face in the morning to improve makeup application and prevent greasiness during the day.
It can also be used as a face wash for men who are concerned about the dirt in their pores.