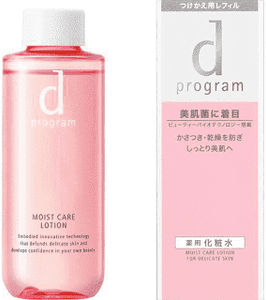 This lotion regulates the barrier function of skin that is prone to dryness, leading to moist, glutinous, and clear skin.

How to use

Be sure to use d Program Moist Care Lotion W with the dispenser set.

After cleansing your face, dispense two times the amount of the dispenser onto your palm and spread it over your entire palm in a circular motion.

Apply slowly and carefully from the center to the outside of the face, starting with large areas such as cheeks and forehead.
*When using on delicate areas, apply by lightly pressing the skin with the palm of your hand to avoid rubbing the skin too hard.