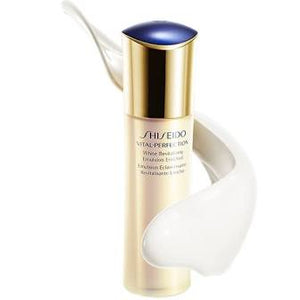 Long-lasting moisture for skin. Whitening Emulsion for Aging Care* This whitening emulsion plumps up skin that tends to become thinner and firmer with age with long-lasting moisture, keeping it in optimal condition. It leads to skin that is firm and smooth to the touch. Suppresses melanin production to prevent spots and freckles.

*Treatment with age-appropriate moisture.

White RV Emulsion: Recommended for normal to oily skin. White RV Emulsion Enriched: Recommended for normal to dry skin.

This product has a glass container.

Allergy Tested

(Not all people are allergy-free.)

How to use

This product is a refill. Be sure to set the dispenser on the main body before use.