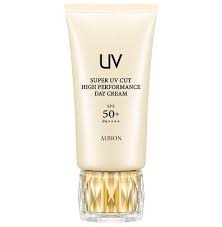 Get a head start on damage.
Intense day cream for anti-aging care*.

This make-up base has a superior treatment effect to give you beautiful, vibrant skin with elasticity and clarity.
Firmly blocks and protects the skin from ultraviolet rays (A and B waves) that cause skin damage. Helps prevent sun spots and freckles. It has a rich texture like a skincare cream. It blends into the skin (stratum corneum) like a cream, filling it with moisture and giving it a feeling of fullness.

How to use

Dispense an appropriate amount onto fingertips and apply to four areas of the face (cheeks, nose, and chin), then blend evenly and thoroughly over the entire face before applying foundation.
You can also use it as a sunscreen cream on your neck and arms.
Reapply if you sweat or spend a lot of time outdoors.
If you use less than the recommended amount, you will not get enough UV protection.