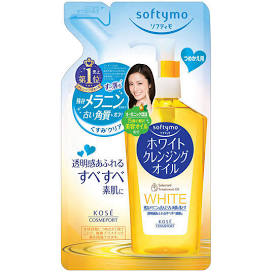 Softymo White Cleansing Oil Replacement 200ml" is a cleansing oil with wheatgrass extract. It contains orange oil and comenuka oil (emollient). It quickly lifts off make-up that has penetrated pores and waterproof mascara and removes it well. Also. It also removes dead skin cells including residual melanin that causes dullness, leaving your skin smooth and clear. Rinses off quickly and leaves your skin feeling refreshed and smooth. Fragrance-free and color-free. Refillable.

Removes makeup and dead skin cells, including residual melanin, to leave skin clear and translucent. It leaves your skin clear and translucent.
Refillable.

How to use

Apply a small amount to dry palms, blend well with makeup, and rinse thoroughly with water or lukewarm water.

How to refill the bottle
After use, refill the bottle and pump without washing.
Do not wash the bottle and pump after use, as it may become unhygienic if water gets mixed in.
If spilled on the floor or other surfaces, it may cause your feet to slip. If spilled, wipe off with detergent.
Be sure to refill the used bottle of Softymo White Cleansing Oil N.
Refill the entire bottle at once.
Do not mix with other products or water.
Do not mix with other products or water.
Cut the top of the bag with scissors along the perforation. 2.
Hold the bag to prevent spillage, insert the tip firmly into the bottle, and slowly fill the bottle from the tip.
Do not press down on the bag too hard, or the liquid may overflow.