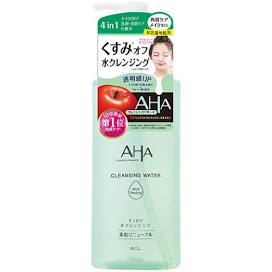 Makeup removal, cleansing, exfoliation, and moisturizing are all done in one bottle. Contains exfoliating ingredients and moisturizing lotion ingredients to help you achieve dewy* and smooth skin just by wiping off. It can also be used as a morning facial cleanser.
"Cleansing and toning
Bare Skin Renew 4-in-1 Water Cleansing
Makeup removal + face cleansing + keratin care + toner
Contains fruit acid*1 (keratin care ingredient)
Wipe-off type
Contains moisturizing lotion ingredients (yeast extract*2, repair hyaluronic acid*3, vegetable ceramide*4, apple fruit water, apple fruit extract)
Contains skin firming ingredients: Artichoke leaf extract
Colorless, oil-free, alcohol-free, mildly acidic
1Malic acid, lactic acid *2Saccharomyces lysate extract *3Hydrolyzed hyaluronic acid alkyl(C12-13)glyceryl *4Sphingolipid *Depends on dead skin cells

How to use

Apply a generous amount to a cotton pad (2-3 pushes) and wipe off slowly. Gently wipe off. Cleansing is complete when there is no more dirt on the cotton.
When removing heavy eye makeup, place the cotton on the eyelid, let it blend for a while, and then gently wipe off. (Some mascara may be difficult to remove.)
(Some mascara may be difficult to remove.) - Proceed to the next step of skin care without rinsing.