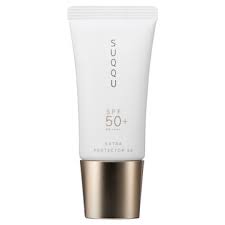 SPF50+, yet comfortable.
Leaves skin looking supple and radiant without leaving a white cast.

A blend of three UV scattering agents blocks UV-A and B waves as well as airborne particles from directly adhering to the skin. The texture is like a moist skincare cream and wraps around the skin in a pleasant and fragrant way. The scent of oriental orchid "Sanseikan" fills your skin with peace and freshness.
Directions for use

Gently apply an appropriate amount to your face. Rinse well with a cleanser (makeup remover) to remove makeup.