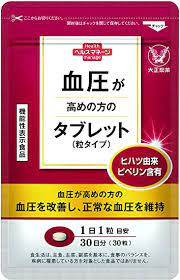 One tablet per day* for blood pressure control!
Tablet for people with high blood pressure (granular type)" is a functional food containing "Piperine from Hihatsu", which is reported to improve blood pressure and maintain normal blood pressure in people with high blood pressure(*).
In addition to reviewing your lifestyle, such as daily exercise, why don't you start taking blood pressure measures easily with this easy-to-take tablet?

*Guideline daily intake amount

High blood pressure means systolic blood pressure of 130mmHg-139mmHg or diastolic blood pressure of 85mmHg-89mmHg.

Please take one tablet per day.

Ingredients

Hiatsu extract (dextrin, hiatsu extract), reduced maltose syrup/crystal cellulose, calcium carboxymethylcellulose, silicon dioxide microparticles, calcium stearate

Calorific value 1.11kcal
Protein 0.002g
Fat 0.002~0.005g
Carbohydrate 0.27g
Salt equivalent 0.00027g
Functional ingredient: Piperine from Hihatsu : 90μg

Precautions for use

Ingesting a large amount of this product will not improve your health. Please follow the recommended daily intake. Do not eat the desiccant by mistake.