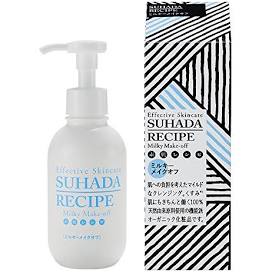 Mild cleansing that considers the burden on the skin.
With four kinds of plant oils*1 that protect keratin, this cleanser gently removes makeup without putting a burden on the skin.
Gently removes makeup without burdening the skin.

Moisturizing beauty ingredients
Contains ceramide*2, hyaluronic acid*3, and akebi placenta extract*4.
Cleanses while retaining moisture.

1 Jojoba seed oil, macadamia seed oil, argania spinosa kernel oil, almond oil
2 Glucosylceramide 3 Sodium hyaluronate 4 Astragalus membranaceus extract

Reasons for choosing "Bare Skin Recipe

1: Moisturized skin after cleansing
Milk cleansing is a cleansing product that contains little oil, so it does not leave your skin feeling refreshed or tight after washing.
Milk cleansers are gentle to use and contain many moisturizing beauty ingredients, leaving your skin moist and smooth after washing.


2: 10 Additive-free
No petroleum-derived materials, synthetic surfactants, mineral oil, synthetic preservatives, synthetic polymers
No synthetic polymers, silicone oil, synthetic colors, synthetic fragrances, UV absorbers, or tar dyes.


3: Natural neroli scent
Natural neroli is the scent of orange flower, and its refreshing and soothing scent will make your skin care time enjoyable.

- Directions for use

Apply 2 to 4 pumps to palm of hand and blend with makeup.
Once makeup is blended in, rinse thoroughly with water or lukewarm water. Can be used with wet hands.
Use a special remover for heavy eye makeup and other makeup that is difficult to remove.