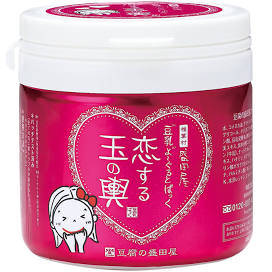 Rose scent to enhance the esthetic feeling.
Only 5 minutes in the bath! Just apply and rinse off for a quick and easy pack.
The scent of rose, which is said to be good for beauty and love, will make your skin and mind happy.
Contains a combination of collagen*1 and hyaluronic acid*2 with high moisturizing power. It leads to moisturized skin that is resistant to dryness. Recommended for special care when you are worried about stiff or cracked skin, or before an important day.
1 Hydrolyzed collagen (moisturizing ingredient) *2 Sodium hyaluronate (moisturizing ingredient)
My skin is dry and cracked.
Your skin feels dry and flaky.
If you like the scent of rose.

Directions for use

(1) Once a day after cleansing your face, dispense an appropriate amount (about the size of two cherries) onto your hands and spread it over your face in a slightly thicker layer, avoiding the eye and mouth area, so that the color of your skin is not visible.
(2) Leave on for 5 to 10 minutes, then rinse off with lukewarm water.
(3) After rinsing, follow your normal skincare routine.