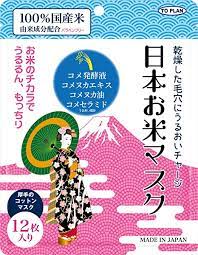 A pack of 12 thick cotton masks.
Rice fermented liquid: Prevents rough skin and keeps it fresh.
Rice fermented liquid: Prevents skin roughness and keeps it moisturized ・Komenuka oil: Natural oil that supports youthful skin
Kome-nuka extract: Beauty ingredient of rice to support glowing skin.
Kome-Ceramide: Helps to improve skin tone.
Water-soluble proteoglycan: said to have three times the moisturizing power of hyaluronic acid

Directions for use

Use after cleansing your face.
(1) Place the mask on your face, aligning it with your eyes and mouth.
(2) Leave it on for 10-15 minutes, then peel it off and blend the liquid into your skin.
(3) Then, follow your normal facial care routine.