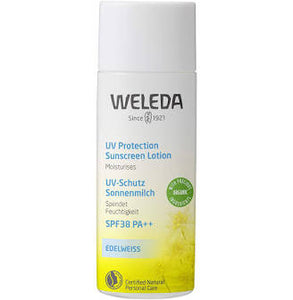 [Japan only] Renewal of the sunscreen that can be applied to the whole body and can be used from babies to adults. 365 days of comfortable UV care. We have further pursued ease of use and gentleness. The SPF value has been increased to 38! Stays moist even in the evening! Contains jojoba oil to provide a comfortable texture that spreads easily and blends in quickly. Suitable for babies and adults, pregnant women, and people with sensitive skin. No UV absorbers (non-chemical). Citrus scent.

Directions for use

Spread an appropriate amount evenly over face and body before going outside. Reapply frequently to maintain the sunscreen's effectiveness. After use, wash thoroughly with a facial cleanser or body wash.

Storage and Handling Precautions

Store in a cool, dark place. Use as soon as possible after opening the package. Keep the mouth of the container clean. Use with caution to avoid skin irritation. If you notice any irritation, discoloration, or dark spots on your skin, discontinue use and consult a dermatologist. If you continue to use the product, it may worsen.