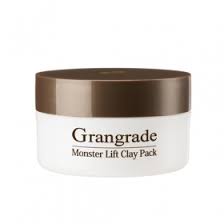 A clay pack that sizzles and contracts, just apply and lift!
Contains 93% firmness and elasticity serum.
This clay pack not only removes pore dirt and dead skin cells but also tightens the skin as the pack dries.
Contains 93% firming and moisturizing serum such as 100 times penetrating vitamin C, micro-collagen, and super hyaluronic acid, making it easy to "lift sagging skin" every time you use it.
Contains gold leaf, so even after rinsing it off, you will be left with firmness! It can be used morning and night. Can be used morning and evening.

Product name
Gran Gray Monster Lift Clay Pack (MCL Pack)
Specification (content/color)
80g
How to use
Apply when skin is not wet. Take out an appropriate amount with the included spatula and spread it thinly and evenly over the entire face (*except around the eyes, eyebrows, and lips). The skin will start to shrink after about 5 minutes, but please wait until the surface is dry for about 10 minutes. After that, rinse off well with water or lukewarm water and apply toner to your skin. For detailed instructions, please refer to the enclosed instruction manual.
Due to the use of natural ingredients, there is a possibility that the contents may become slightly hardened as time passes after production.