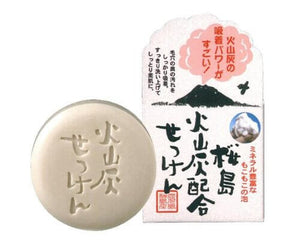 The firmer foam and adsorbent power of fine volcanic ash adsorbs and cleanses sebum and dirt from deep within pores. Daily cleansing will make your skin dewy and clear.

Special features of volcanic ash
 1. 0.014mm fine particles (average grain length), smaller than pores
 Smoothly balloons on the skin (rounding)
 3. Mineral-rich volcanic ash from Sakurajima, Kagoshima Prefecture.


Content: 90g This facial soap contains volcanic ash from Sakurajima, which is rich in natural minerals.